Laura Rey, Administrative & Communications Assistant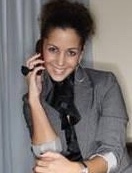 Laura Rey was born in South America and grew up in the US. She is a proud NY native, who is fluent in both English and Spanish and has a high knowledge of Italian. She earned a Bachelor of Science in Marketing and International Business. Ms. Rey has several years of Sales and Marketing experience in the Fashion and International Markets as a Product Specialist. Over the past several years she has transitioned to the Healthcare Industry. Within her role as a Network Relations Coordinator, Ms. Rey has worked in several NYC hospitals helping to lead the top Providers and Healthcare Plans gain premiere city recognition and meet all needed regulations. She has gained valuable skills in Provider Relations, Business Development and Strategic Planning. Along, side her Healthcare career she became a Certified English-Spanish Medical Interpreter and has several years of expertise working in the NYC Courts and with the Board of Education. Ms. Rey loves to help and motivate each and everyone she meets during her cases and enjoys working with children. Ms. Rey also holds a strong passion for animal welfare and is an active advocate. In her spare time, she enjoys volunteering at adoption events throughout the city.
Laura can be reached at lrey@neroimmigration.com.