National Alopecia Areata Foundation ("NAAF")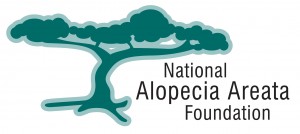 The National Alopecia Areata Foundation (NAAF), is a 501(c) organization (Federal Tax ID is 94-2780249). Headquartered in San Rafael, CA, NAAF supports research to find a cure or acceptable treatment for alopecia areata, supports those with the disease, and educates the public about alopecia areata. NAAF is governed by a volunteer Board of Directors and a prestigious Scientific Advisory Council. Founded in 1981, NAAF is widely regarded as the largest, most influential and most representative foundation associated with alopecia areata.

 Alopecia areata is a common autoimmune skin disease, causing hair loss on the   scalp, face and sometimes on other areas of the body. In fact, it affects as many as 6.8 million people in the U.S. with a lifetime risk of 2.1%. People of all ages, both sexes and all ethnic groups can develop alopecia areata. It often first appears during childhood and can be different for everyone who has it.

Founder of NERO Immigration Law, attorney Deirdre Nero, has had Alopecia Areata since age 21. 
Deirdre is a proud member of the Board of Directors of The National Alopecia Areata Foundation ("NAAF"), and became the Secretary of the Board in January 2017. Deirdre has served as an Advocate and Legislative Liaison for NAAF since 2012, where she has been instrumental in achieving numerous wins for the Foundation in Washington, DC, including the introduction of HR 4989- The Cranial Prosthetic Medicaid Coverage Enhancement Act, and selection of Alopecia Areata for a disease specific meeting for the Food and Drug Administration's Patient Focused Drug Development Initiative. Along with her sister, Deirdre is the co-founder of a jewelry line called B.A.L.D., which raises awareness for Alopecia Areata and donates a portion of profits to alopecia related charities.
Read more about Deirdre Nero's story:
Inspire Health Magazine Sept/Oct 2017
2014 NAAF Annual Patient Conference Keynote Speech
Deirdre's story in the book Head-On: Stories of Alopecia (book available on Amazon here).
Listen to Deirdre share her story on Episode 77 of the On-Air Advocate
Article in Gables Living October 2018 issue about the Havana Nights 3rd Annual Miami Fundraiser for NAAF.
Help Deirdre support NAAF here.